Crazy Burger Promo! Papa's Munchys is a burger restaurant birthed from Papa's Pizza. A hamburger (also burger for short) is a sandwich consisting of one or more cooked patties of ground meat, usually beef, placed inside a sliced bread roll or bun. The patty may be pan-fried, grilled, smoked, or flame-broiled. Hamburgers are often served with cheese, lettuce, tomato, onion, pickles, bacon, or chiles; condiments such as ketchup, mustard, mayonnaise, relish, or a "special sauce", often a variation of dressing; and are frequently placed on sesame seed buns. A hamburger topped with cheese is called a cheeseburger. And Papa's Munchys serve the tastiest burgers, sandwiches, and shawarma in Ghana.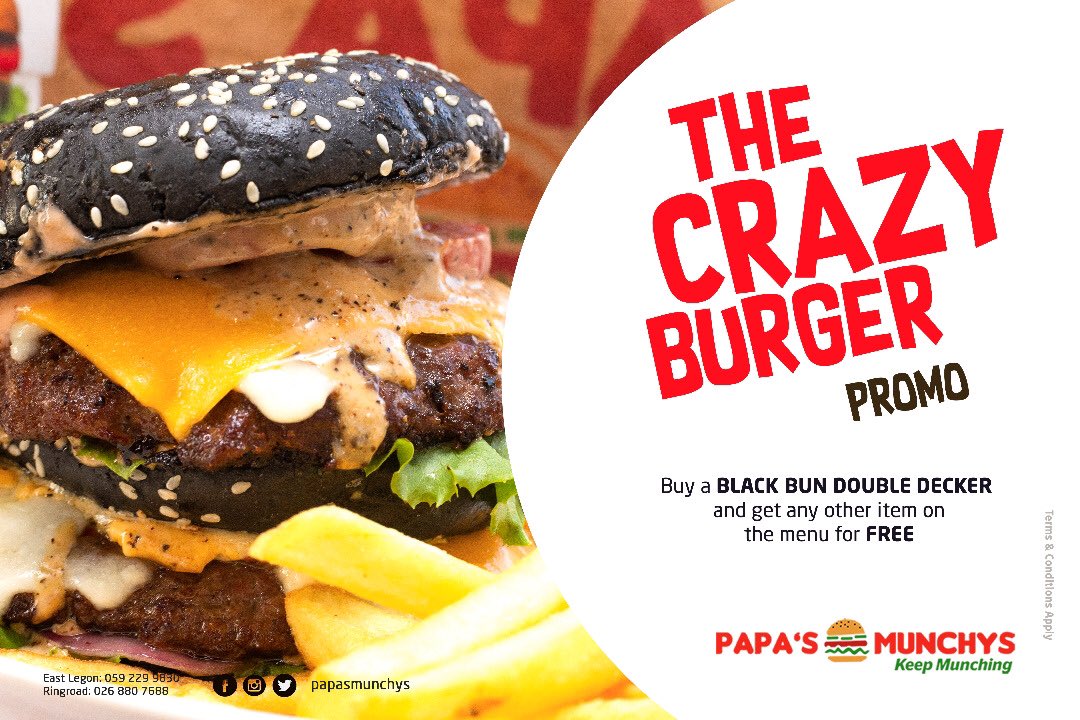 PAPA'S MUNCHYS MENU
Their menu consists of delectable burger options with combinations such as; the Quarter pounder with Cheese and Chips (Made up of Chipotle sauce, burger sauce, lettuce, onion, fresh tomato, and cheese), the sauces in this burger makes it juicy and tasty to munch on. Another is the Double Decker Burger (also made up of Chipotle sauce, burger sauce, lettuce, onion, fresh tomatoes, cheese, and pickles). Now the double-decker is an option you would definitely not be able to resist because of its juicy double meat and evenly spread sweet sauces; together, the taste is heavenly! Their Munchy's Special with Chips (Sandwich) with the combination of Beef, Tuna, Chicken, Chili, Cajun season, Onion, Fresh Tomatoes, Pickles, Lettuce, Barbeque, Ranch Sauce, and Yellow Mustard, would live you asking for more.
Black Burger Options
On their menu is the Sumptuous Black Burger options, introduced not long ago. If you want to have your breath taken away, then their Double Decker Black Burger (a combination of Two Beef Patty, Chipotle Sauce, Burger Sauce, Lettuce, Onion, Fresh Tomatoes, Pickles, and Cheese) is definitely an option to go for on their menu. These and other options on Papa's Munchys menu would live you with long-lasting satisfaction beyond compare.
They not only have the tastiest burger options but also run incredible promos. Currently, Papa's Munchys comes your way again with another lip-smacking promo for the month of September tagged "Crazy Burger Promo" which would be running on Mondays and Tuesday for a limited time, with terms and conditions applied. This offer is an exciting one because the restaurant would be giving a double offer for the price of one.
CRAZY BURGER PROMO ON PIZAREA
As exciting as this offer may appear to be, it's even more interesting to know that orders can be placed through Pizarea.com. Pizarea is always making things easier and convenient for customers who are interested in ordering food from their favorite restaurant nearby, online. Pizarea makes it a responsibility to ensure that, all the best offers and promotions are communicated to their valued customers in order to form the best decisions in making orders.
Here's how the Crazy Burger Promo works. You can place your order for the Black Bun Double Decker and get any other item on the menu for free!! on Pizarea.com, where we make food ordering a delight.